The cctv camera and monitor introduction from Christy Industries Inc.
cctv systems (closed circuit television) are one of the most effective means of securing your home or business. Basic cctv systems consist of a cctv camera connected directly to a cctv monitor. More complex systems can monitor the camera through switchers, time lapse recorders and even over the phone line. cctv switchers allow multiple cctv cameras to be connected to one monitor by switching between cameras at preset time intervals or by splitting the screen to display more than one camera's picture on the screen.
A time lapse recorder operates much like your home VCR except that the cctv picture is recirded at a very slow speed so as to record up to 24 hours on one tape.
The latest home cctv security systems allow you to call the system, and, with a monitor connect to the telephone line through special equipment, you can view and control the cctv cameras remotely.
Before you begin to specify your system, make a list of your objectives and concerns. A cctv system professional can then make the best recommendation to meet your needs. These systems should be used as part of a complete carefully planned security solution.
See the
many

types of cctv systems available at Christy Industries.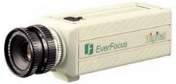 THE CCTV CAMERA
The starting point for any system must be the camera. The camera creates the picture that will be transmitted to the control position. cameras are available in various shapes, sizes and lens configurations. Models of cameras are designed to be used outdoors, use various stationary or moving mounts and can be concealed in everyday items such as clocks or teddy bears. Specification of the right cctv camera for a project is not always the easiest of processes. You should seek professional advice.
THE MONITOR
The picture created by the cctv camera needs to be reproduced at the control position. A cctv monitor is virtually the same as a television receiver except that it does not have the channel tuner.
cctv is not difficult to install. Christy Industries would be happy to provide you with installation tips and instructions. Or you can take an excellent online course.
Christy Industries is a muli-vendor distributor of cctv, burglar alarm systems, fire alarm systems and other security devices.
WE SHIP NATIONWIDE


We Accept Purchase Orders
In addition to all the major credit cards we accept purchase orders from Fortune 1000 corporations, educational institutions, and government agencies.
All purchase order terms are Net 30 days. Please fax your purchase order to (718) 259-3294